Order Fruit & Pickling Cucumbers
Good Afternoon Desert Hills Customers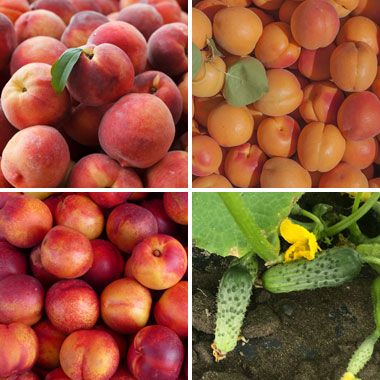 We apologize as our Facebook post keeps getting deleted, but if you entered our draw we still have it recorded on our end.
As many of you have heard we have suffered a tough spring with a very late frost on our fruit trees, causing them to have limited supply for this year.
This goes for the same in the Okanagan as we have heard reports of almost zero apricots, nectarines and very limited supply of Peaches.
With processors shut down and an over supply of stone fruit from our farmer friends in the south, we have decided to help them out. Local is top priority and we want everyone to know that when local product comes on that will be the only thing we will be carrying if there is a supply.
Our business was built on local and local is top priority for us, but seeing food go to waste is not something we want to see. The family farm follows all the same practices we do and Desert Hills Ranch would rather see this beautiful fruit on your shelves then go to waste. A lot of produce you receive from the south does not have the flavour but we will be getting tree ripened produce to ensure we have the flavour that everyone loves. In order to move this tree-ripened produce we are taking orders, which will be available for pick-up on the following dates:
Fill out the following form to order your items and select a date for pickup. We will take payment upon pickup:
---
We are open 7 days a week,
with the Ashcroft location open from 9am to 6pm.
The Cache Creek location is closed.